3 Things You Should Know about Gigi and Nate, the Film about a Paralyzed Man and His Monkey
By Michael Foust, Crosswalk.com
Nate is a free-spirited young man who smiles a lot, laughs a lot, and embraces every adventure that comes his way.
He enjoys swimming at the lake. He enjoys boating. Of course, he also enjoys talking to young women his age – especially ones who are as carefree as he is.
Nate's future is bright, with college just around the corner.
But then tragedy strikes. It begins during a Fourth of July picnic when he's hit by a painful headache. Soon, he loses the ability to walk – and soon thereafter, he's in a hospital bed, unconscious.
Will he survive?
The new film Gigi and Nate (PG-13) tells this surprising yet uplifting story, following Nate as he is confined to a wheelchair and loses the will to live – only to rediscover it with the help of a capuchin monkey named Gigi.
Here are three things you should know:
Photo courtesy: ©Roadside Attractions, used with permission.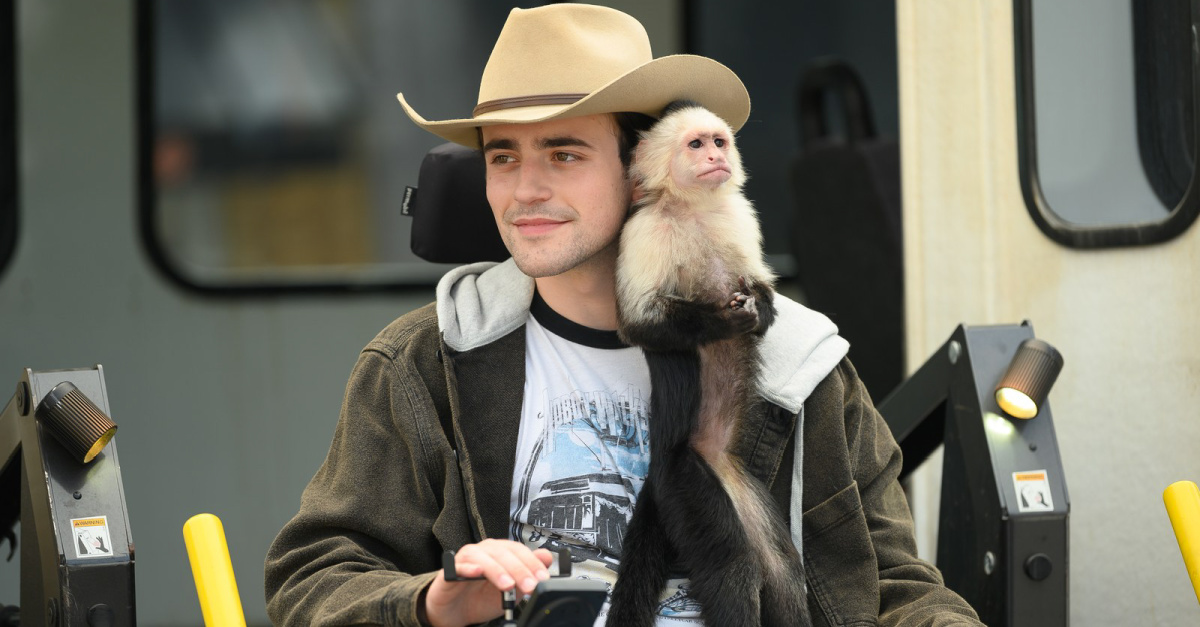 1. It's Inspired by a True Story
The film takes significant creative license but is inspired by the true story of Massachusetts native Ned Sullivan, who was born in 1983 and was active in sports as a teenager, playing football, baseball and ice hockey. He enrolled at the University of Arizona with his sights set on a career in sports marketing but was paralyzed in a devastating car accident as a senior that left him a quadriplegic.
Incredibly, though, Sullivan regained the use of his hands and arms. He also was assisted by a capuchin monkey named Kasey who helps him with daily chores (turning off the lights, for example) and hobbies (she helps him paint). Kasey also provides companionship. (He considers her his best friend.) She was supplied by an organization, Helping Hands: Monkey Helpers for the Disabled, that trains service animals.
Photo courtesy: ©Roadside Attractions, used with permission.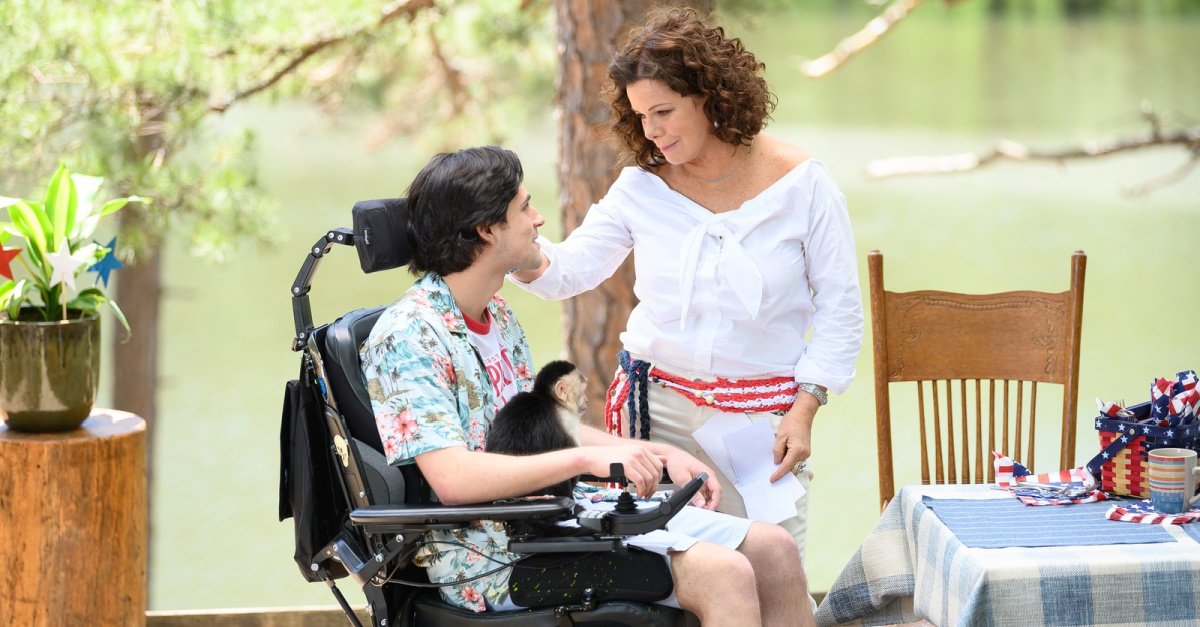 2. It's a Celebration of the Gift of Service Animals
The backdrop to Gigi and Nate is the friction between animal rights groups and advocates for the disabled. The film follows Nate on his journey from a quadriplegic who is suicidal to a man who finds a renewed purpose in life. He's making stunning strides physically. (His doctor is shocked that he can move his hands.) He's making progress emotionally, too – smiling and laughing for the first time in months.
Yet this optimistic outlook hits a wall when he takes Gigi to the grocery store and encounters a female customer who wants Gigi booted from the premises. (Gigi, she says, is unsanitary.) That woman just happens to be the head of the (fictional) animal rights group AFAP (Americans For Animal Protection), which subsequently holds a rowdy protest outside Nate's home. (Signs scream: "service animals are not slaves.") Soon, AFAP is promoting legislation that would ban capuchin monkeys as service animals.
The film pushes back on this narrative by promoting the benefits of Gigi and other service animals. Such animals assist disabled individuals in daily life. They provide friendship. Often, they also give people a reason to live.
"She gave us the one thing we needed most: hope," Nate says.
The film is a warmhearted defense of disabled individuals and the service animals that assist them. It's inspiring to watch.
Photo courtesy: ©Roadside Attractions, used with permission.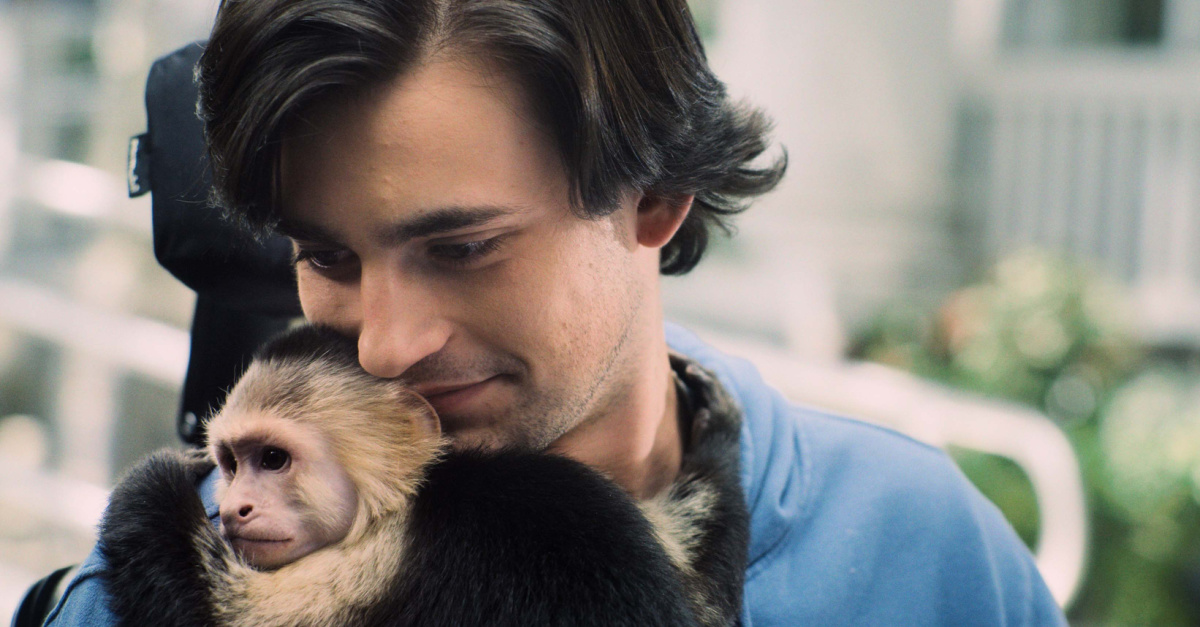 3. It's an Uplifting Tale about Overcoming Tragedy
Gigi and Nate is a tale about the gift of life but also the fragility of life. In the open scenes, we watch as Nate – full of joy and laughter – dives off a cliff into the water below. Minutes later, he's smiling as he talks to family members at a Fourth of July picnic about his plans for college. Within seconds, though, he's lying on the bathroom floor, vomiting and unable to stand.
"Please, dear God," his mom says in a panicked prayer.
Doctors then deliver the tragic news: Nate is suffering from a deadly case of meningitis he caught at the lake. If he survives, he'll be paralyzed. The Bible says life is fragile and brief – it's like a mist that's here "for a little while and then vanishes" (James 4:14) – but we rarely think about it.
Gigi and Nate is also a tale about overcoming tragedy. At the beginning of the film, we watch as family members hold hands and pray – their lives seemingly perfect. At the end of the film, they again hold hands and pray, having walked through a tragedy they never envisioned. Their family is stronger. Nate even enrolls in college. (And, of course, he takes Gigi with him).
Gigi and Nate has plenty of PG-13 moments (details below). Still, its core message of hope and optimism is one that everyone can embrace.
Rated PG-13 for some thematic material and language. Language details: OMG (12), h-ll (7), a-- (1), f-word (1), s--t (3). We also see Nate attend a party where we see sensual dancing.
Entertainment rating: 4 out of 5 stars.
Family-friendly rating: 3 out of 5 stars.
Photo courtesy: ©Roadside Attractions, used with permission.
---
Michael Foust has covered the intersection of faith and news for 20 years. His stories have appeared in Baptist Press, Christianity Today, The Christian Post, the Leaf-Chronicle, the Toronto Star and the Knoxville News-Sentinel.
Looking for Wholesome Family Films This Christmas Season? Listen to Our Culture Expert Share Her Top 5 Family-Centered Films - Perfect for Family Movie Night!
The views and opinions expressed in this podcast are those of the speakers and do not necessarily reflect the views or positions of Salem Web Network and Salem Media Group.