6 Scriptures That Changed My Life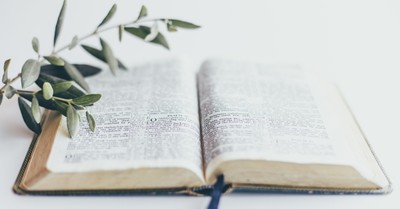 By Ruth Clemence, Crosswalk.com
Growing up, the Bible was in my bedroom but seldom opened. I believed in Jesus and cannot remember a time I felt as if God didn't exist. God just was. However, I did not follow Him as Lord and Savior growing up. In God's lovingkindness and faithfulness to me, that changed over time. Far from being a God who "just was," I discovered that he is "the one who is, who always was, and who is still to come" (Revelation 1:8).
As different opportunities arose, I heard more of God's Word through circumstances, through other believers, through music, and for myself as I started to open up the Bible and engage with it more. What I found was a book that was the very word of God, which is "alive and active… sharper than any double-edged sword, it penetrates even to dividing soul and spirit, joints and marrow; it judges the thoughts and attitudes of the heart" (Hebrews 4:12).
Here are a selection of verses that have shaped my walk as a follower of Jesus. May they bless you as much as they have encouraged and sustained me.
Photo credit: Unsplash/Carolyn V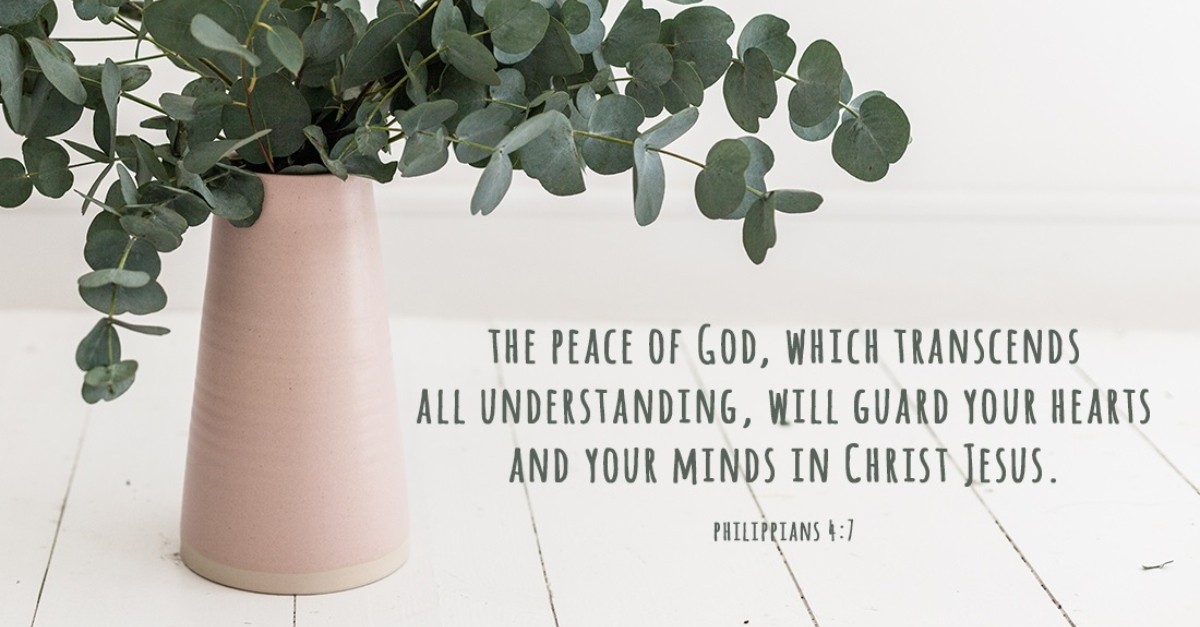 1. Philippians 4:4-7
"Rejoice in the Lord always. I will say it again: Rejoice! Let your gentleness be evident to all. The Lord is near. Do not be anxious about anything, but in every situation, by prayer and petition, with thanksgiving, present your requests to God. And the peace of God, which transcends all understanding, will guard your hearts and your minds in Christ Jesus."
Reading this verse changed my life in a profound way. It was the first time that I remember crying out to God from my heart and desperately longing to hear His voice. As an 18-year-old, I spent time traveling around the United States as part of a gap year. I traveled alone and remember arriving at my motel room in Phoenix, Arizona, on my first day.
Taking off my heavy backpack, which contained my life for the next few months, I noticed a Bible next to the bed. Opening it, I came across this portion of Scripture in Philippians and felt immensely comforted.
The Lord is near.
Even though I was on a different continent and an ocean separated me from my loved ones back home in the United Kingdom, I let the truth of God being near permeate my lonely heart.
Do not be anxious about anything.
I was anxious about meeting new people and navigating a new place by myself. This truth held me again as I was diagnosed with blood cancer a few months after my travels had ended. God's Word never changes even when our circumstances do. Time and again I reflect upon these verses, reminding myself of the God who is near, who gives His peace to guard my heart and mind, listens to my requests and stills my anxious thoughts. This truth from Scripture helps my heart and mind to stay focused on Jesus.
Photo credit: SWN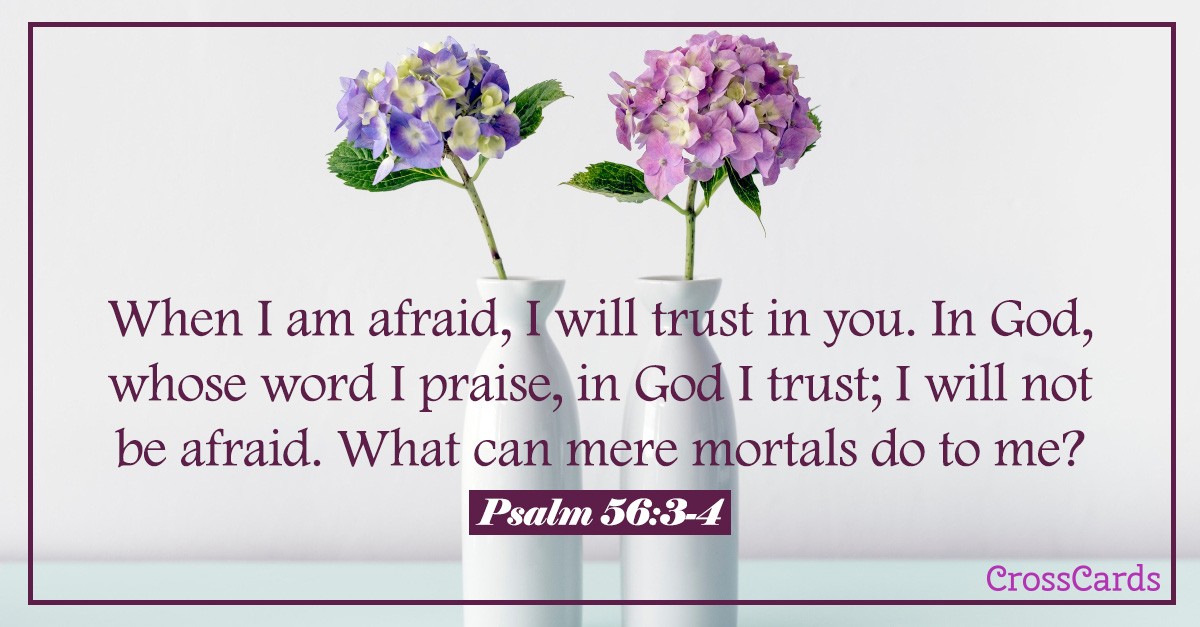 2. Psalm 56:3
"When I am afraid, I put my trust in you."
In 2020, I relapsed with the same cancer that I had as a teenager. Only this time, I was a married woman with two young children, our world was shaken by Covid-19, and I was told that part of my treatment would be a bone marrow transplant. This would wipe out my immune system, in the middle of a global pandemic, with a young family to care for and a very limited support network due to Covid restrictions and no family nearby.
As I struggled to process the news over the coming days and weeks, I sobbed and lamented. All of my deepest fears came to the surface. For the first time, I thought about my mortality. I had to ask myself hard questions about God, eternal life and leaving loved ones behind. When I woke up in the middle of the night, I would weep. Waking up every morning, I felt the pain of the reality that my life was forever changed. It felt like a nightmare that I could not wake up from.
When I read Psalm 56:3, it gave me hope and a practical application to help me walk through fear. I loved that it says: "when I am afraid…" It does not say "if" but "when." Jesus knows that we will fear. God tells us not to be afraid, and time and again in the Bible, His people are told not to fear and to have courage. I was afraid. There was no arguing with that. It was the most terrified I have ever felt. But what am I to do when I am afraid? Put my trust in God.
My life is in His hands. He has a purpose for me and He knows when my time is up. I still wrestle with feelings of loss. I had never thought much about death until then, even though I had cancer before. My grandmother died shortly before I was diagnosed and we were very close, which is another reason why death was at the forefront of my mind for the first time. I realized that I really do not know what will happen tomorrow, and that I am like a mist that appears for a little while then vanishes (James 4:14). It gave me a hunger for heavenly treasures.
Photo credit: SWN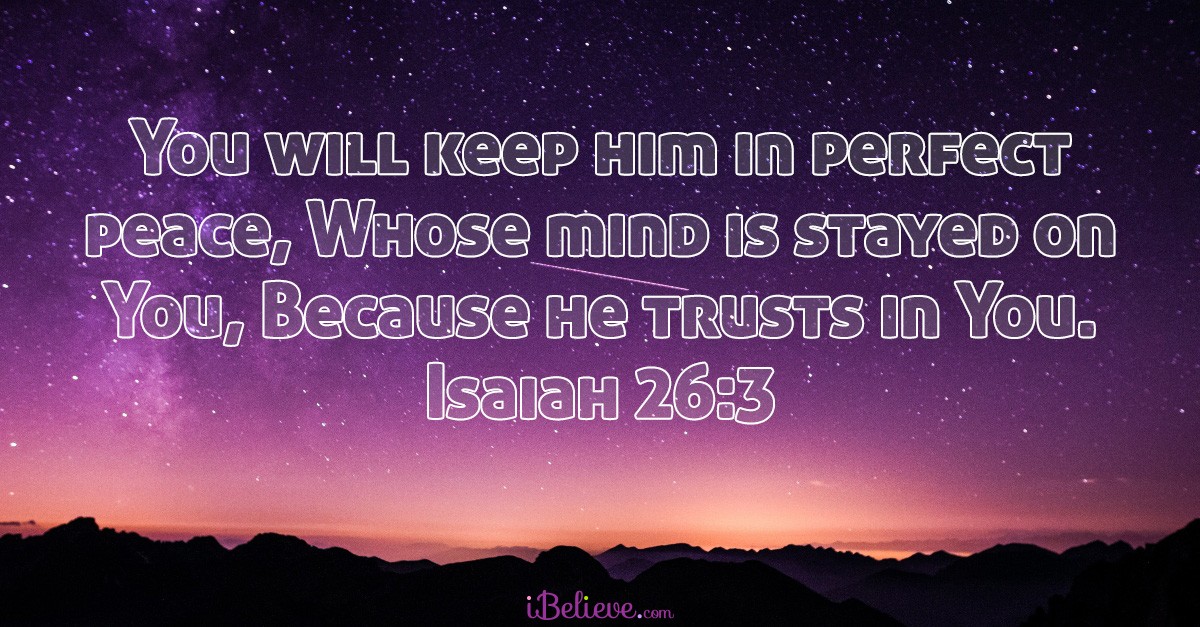 3. Isaiah 26:3 (ESV)
"You keep him in perfect peace whose mind is stayed on you, because he trusts in you."
When going through suffering, the mind and the heart long for peace and for everything to be alright. The frailty of human life and the suffering we see within ourselves and all around us make it clear that there is not a lot of peace to be found. Not to mention perfect peace.
My mind has the habit of thinking about all sorts of different things at any moment. This verse from Isaiah is another that I meditated upon and shared with others during cancer. I found with everything around me falling apart and everything within me feeling unstable, I was to look only to Jesus. Surrendering my life to Him again and choosing daily to gaze upon Him, I had the peace I needed to get through. It was not easy and there were moments where I cried out to God, longing for a tangible touch from Him that never came in the way I had wanted it to. Yet, He was with me and working in my heart and mind, even when I could not understand it.
The longing to have a mind that is in perfect peace is understandable, but it really is impossible if our mind is not on Jesus – the Prince of Peace (Isaiah 9:6). He gives us peace that only He can give, not as the world gives (John 14:27). It is in Jesus that we have peace, for that is where peace can be found. We are to take heart because He has overcome the world (John 16:33). The world is in darkness, despair and decay. Jesus is light, joy and He restores and redeems. When our minds are steadfastly fixed on Him, and as we trust in Him, we are kept in perfect peace by Him.
Photo credit: SWN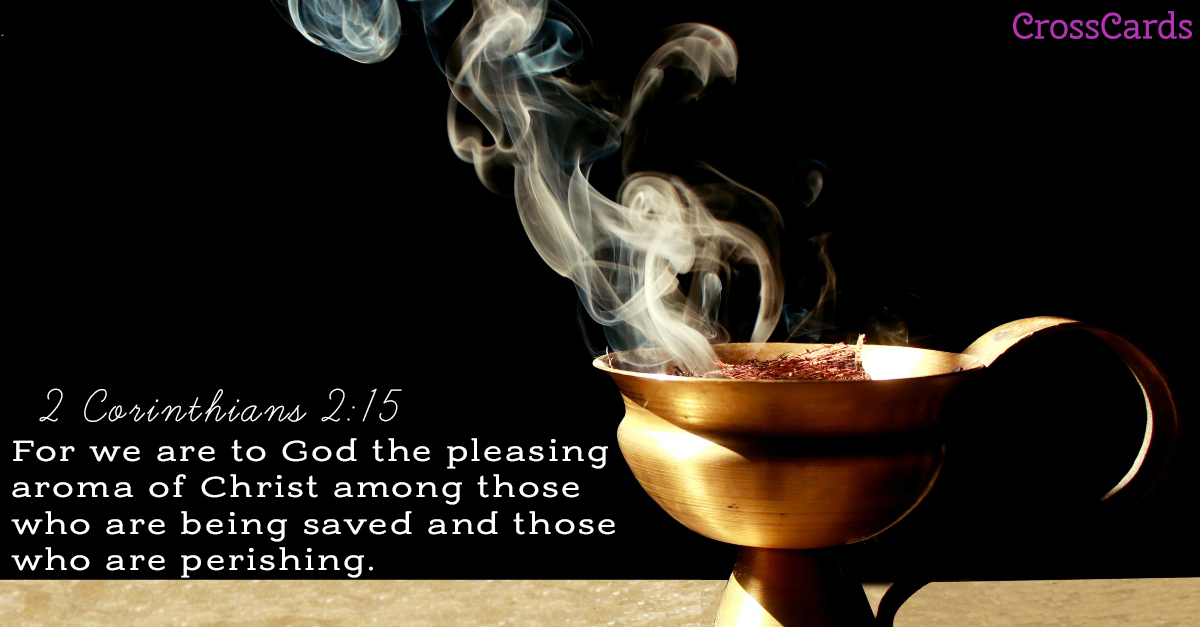 4. 2 Corinthians 2:14-15
"But thanks be to God, who always leads us as captives in Christ's triumphal procession and uses us to spread the aroma of the knowledge of him everywhere. For we are to God the pleasing aroma of Christ among those who are being saved and those who are perishing."
I have been writing gospel-centered content for over a decade. One of my very first blog posts included this verse from 2 Corinthians about spreading "the aroma of the knowledge of [Christ] everywhere." The heart behind my writing is the longing to spread the knowledge of the glorious good news of Jesus with others – both Christians and non-Christians. I might be a fragrance of death to some who read my words, and to others I might bring the fragrance of life (verse 16). But in it all, I seek first to honor God and leave the results to Him.
This verse is a reminder for me to continually live in the light of Christ's triumphal procession; He has secured the victory and I am a servant in His kingdom, gladly following my King and Savior. I long to see many come to know Jesus and I am reminded that He has gone before me, and has made me an ambassador for Him. God's message of reconciliation must be proclaimed, and writing has been one way that I have been privileged to proclaim it, for: "We are therefore Christ's ambassadors, as though God were making his appeal through us. We implore you on Christ's behalf: Be reconciled to God" (2 Corinthians 5:20).
Photo credit: SWN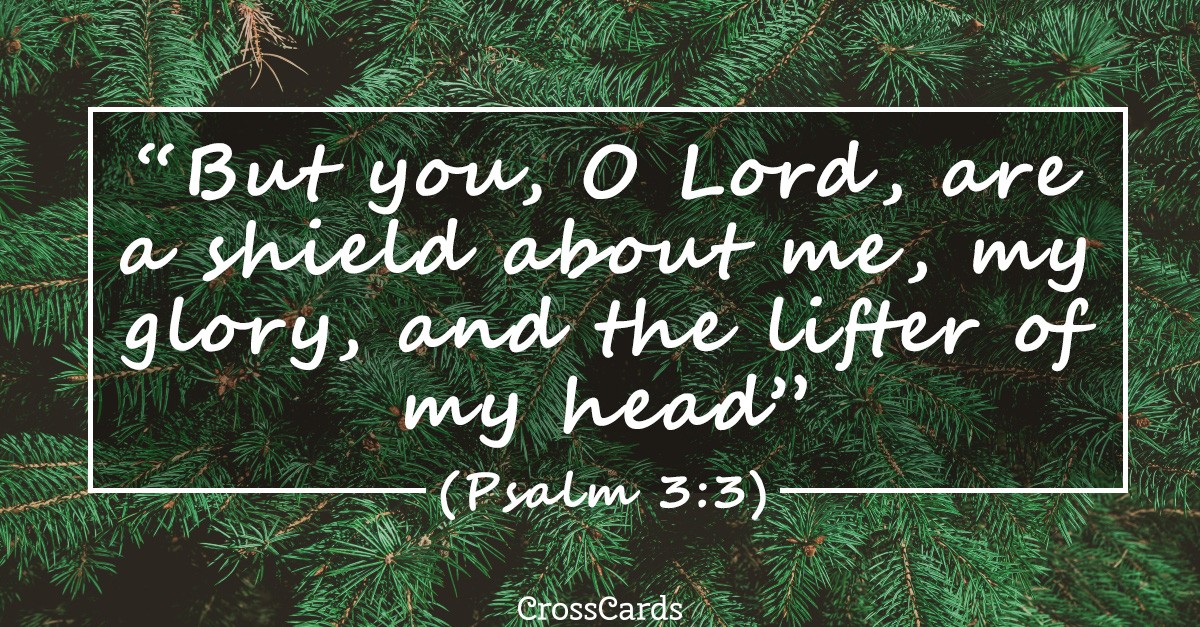 5. Psalm 3:3
"But you, O Lord, are a shield about me, my glory, and the lifter of my head."
As I have read more of God's character in the Bible, I have come to know that He is my Protector. This verse shows that God is my first line of defense against attack. The verses in Ephesians 6:10-18 about the armor of God show the "shield of faith" which extinguishes all the flaming arrows of the evil one. My faith is in Jesus and He is my shield. If I put my faith in Him, I know that He protects me from every attack made to harm me. That does not mean I walk through life pain-free. It means that He is with me and He fights for me. I need only be still and stand on the Word of God.
This verse also makes me imagine how God is the one who lifts my weary head. He wants me to keep my eyes on Him. Yet, I often feel the weight of the world, my sin and the suffering around me keeping me downcast. Jesus is the "lifter of my head." It is also a reminder to keep my eyes on eternity and things to come. I am to look up and keep my eyes focused on Jesus.
In the hymn "Before the Throne of God Above," I sing with a sense of renewal and refreshing these words:
When Satan tempts me to despair,
and tells me of the guilt within,
upward I look and see Him there
who made an end of all my sin.
Because the sinless Savior died,
my sinful soul is counted free;
for God the Just is satisfied
to look on Him and pardon me;
to look on Him and pardon me.
Photo credit: SWN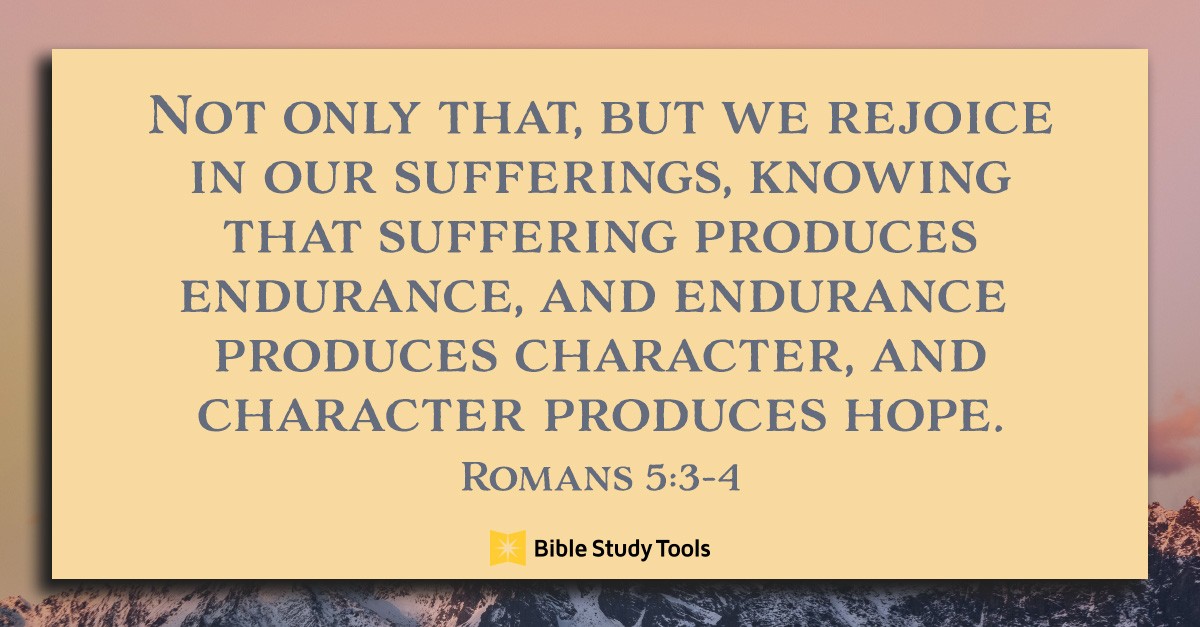 5. Romans 5:3-5
"Not only so, but we also glory in our sufferings, because we know that suffering produces perseverance; perseverance, character; and character, hope. And hope does not put us to shame, because God's love has been poured out into our hearts through the Holy Spirit, who has been given to us."
When my husband was asked by his friends what my favorite Bible verse was before we got married, he told them it was Romans 5:3-5. I think I said it was my favorite verse at one point. Unfortunately he was asked this question to find out how much he knew about his wife-to-be for a bit of fun. I was given the questions ahead of time by a friend to fill in. Romans 5:3-5 did not make the final cut – Philippians 4:4-7 did! Unfortunately this resulted in my husband-to-be having to do push-ups as part of his failed attempt at knowing this information about his future bride (which was all part of the fun)!
My husband and I laugh about this now. But this verse has become a verse that I have seen at work in our marriage of nearly ten years. We have walked through our fair share of suffering together, and through it, we have persevered, grown in character, and continue to abound in hope. God's love has been poured into our hearts and we love because He first loved us (1 John 4:19). This verse may have been an inside joke, but it is no joke for us; we are a testimony to seeing these words from the Bible brought to fruition in our lives, as individuals and together in marriage. Now it is online for the world to read!
Photo credit: SWN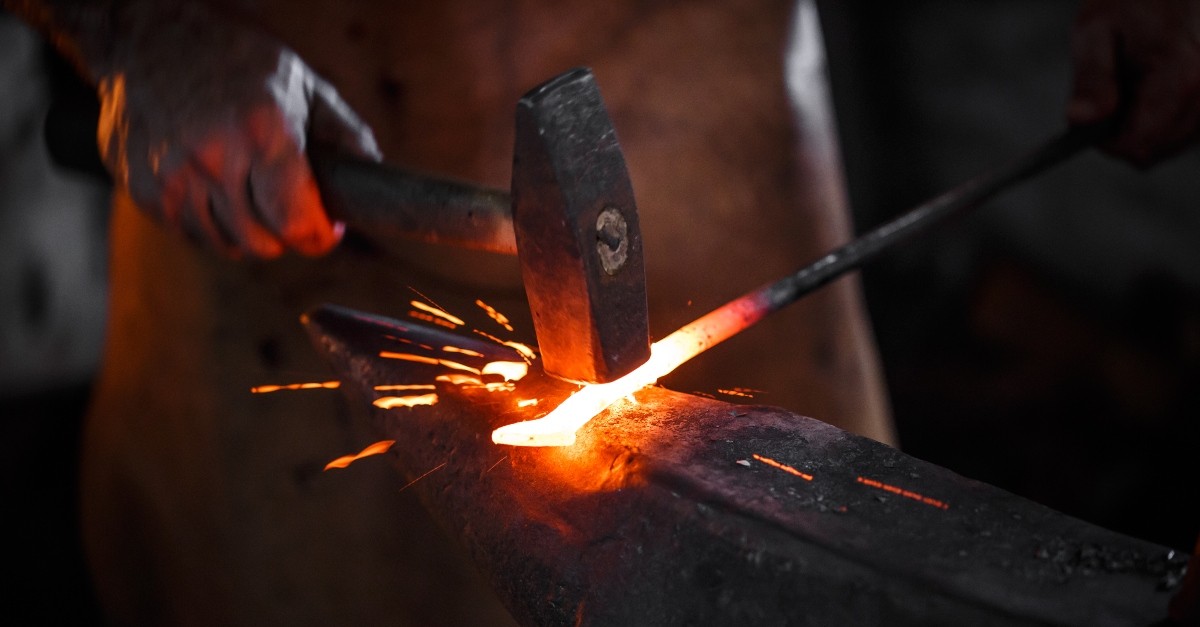 Refined in the Fire
At times in my life, I strayed from the truth that I knew in my heart, and willingly wandered into sin. It was in those dark moments that God chastised me, refined me, and loved me as I fixed my eyes on the cross of Christ. The Holy Spirit has been at work in my life, bringing understanding of the truth of the Bible and helping me to continually come before Jesus, with all of my mess and struggles. He has been responsible for any changes in me that reflect more of Him and less of my own sinfulness. I am thankful for God's Word which is a "lamp to my feet and a light to my path" (Psalm 119:105).
Photo credit: ��Getty Images/grafvision