3 Beautiful Prayers for Christmas Eve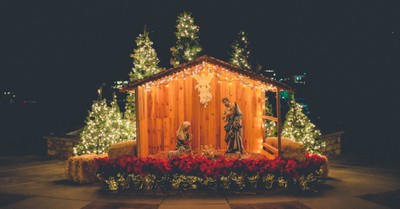 By Rebecca Barlow Jordan, Crosswalk.com
Christmas Eve—the night before Christmas—may include happy laughter or quiet reflection, but above all, it's the perfect time to prepare our hearts for the celebration of Christ's birth. We make other preparations for the holidays like shopping lists, food plans, and travel arrangements. But we also need to make our hearts ready as we reflect on the true reason for the season.
No matter how you spend Christmas Eve, here are some personal prayers for Christmas Eve that can help you prepare your heart for the celebration of Jesus' birth.
A Christmas Eve Prayer to Prepare Your Heart
Lord, on this Christmas Eve, we pause to prepare our hearts for a most beautiful celebration: Your birth and coming to earth as our Lord and Savior, Jesus Christ. Clear our minds so we can focus on You and the joy You bring to us through Your gift of salvation. May the same thrill and anticipation that filled Mary, the chosen mother of Jesus, consume us and draw us close to You. May our spirits cry out, "Alleluia," with the host of angels who first delivered the good news of great joy to humble, awe-struck shepherds that night so long ago—the news that would literally one day be heard around the world.
Help us remember and reflect on the awesome prophecies foretelling Your birth since the beginning of time. Give us eyes of faith to see on this side of the Cross what prophets chose to believe through promises and visions. Immanuel, God with Us, Prince of Peace, the Son of God, Messiah—may all that You are saturate our senses and fill our hearts with both gratitude and worship as we bow this evening before You and offer our prayer to You.
Empty us of sin—and anything that could inhibit our understanding or block the beautiful celebration of Your birth. We surrender all, that we may receive Your all this Christmas Eve night. Whether it's one of us or an entire family, we want to prepare our hearts for You even as You are preparing a place for us to join You one day. May every thought, every desire, every word, and every gift-giving action this special night usher us into that place where You will meet us as we are. May the meditation of our hearts be acceptable to You and bring You the glory and honor You so deserve.
Just as the three Magi brought their offerings in celebration of Your birth, we bring You gifts, too: the declaration of our obedience and devotion to You, the quieting of our hearts and spirits, and the joyful overflow of worship and adoration. May this preparation night be a holy night as we once again receive and celebrate Your great gift to us this Christmas. In Your precious name, Amen.
A Children's Christmas Eve Prayer
Dear God, on this Christmas Eve, we want to think about the real reason for this happy season: Jesus' birth. We'll give and receive gifts to say how much we love each other, just like the three kings brought gifts to Jesus. But instead of thinking about what we might get for Christmas, help us to focus on what we can give to You. We want our hearts to be ready so we can truly enjoy celebrating Jesus' birthday and the peace and joy He came to give us. We want to give You a happy heart that wants to obey You, God—one that loves You and others.
Tonight we think about that special night long ago when a big, bright star shone in the sky along with an angel that frightened shepherds. And the good news given to those shepherds was for us, too: "Don't be afraid. Tonight in Bethlehem a Savior has been born. This is the Messiah, the Son of God." When we sing the Christmas carols at this time of year, may we join the angels' song and so many others who are praising and thanking You for sending us Jesus. He is the very best gift You will ever give us. And tonight we just want to thank You again for how much You love us, just as we are. Thank You for the way You care for us and will never leave us. In Jesus' name, Amen.
A Christmas Eve Prayer for Those Grieving
Lord, not everyone feels joyful at this season. So many have lost loved ones during the year, and in many places, the winter cold blows its bitter winds into lonely hearts. On this Christmas Eve, we pray for those who are grieving losses. Memories of happy times with loved ones in the past can send a rush of tears to those whose arms ache with emptiness. Lord, dry those tears with Your sweet words of comfort and cheer. Turn their sorrow into joy as only You can do.
Remind those who are grieving, Lord, that You are the great Comforter and Counselor, and that You never leave us or forsake us. You are always with us, holding our hearts tenderly in Your hands. Surround them with friends and family who will cover them with love and let them know they are not forgotten. May the joy of Your birth and the good news of Your coming to earth as the Savior of the world cushion their grief this Christmas Eve night. On this night of miracles, speak peace to those who need it most. In Jesus' name, Amen.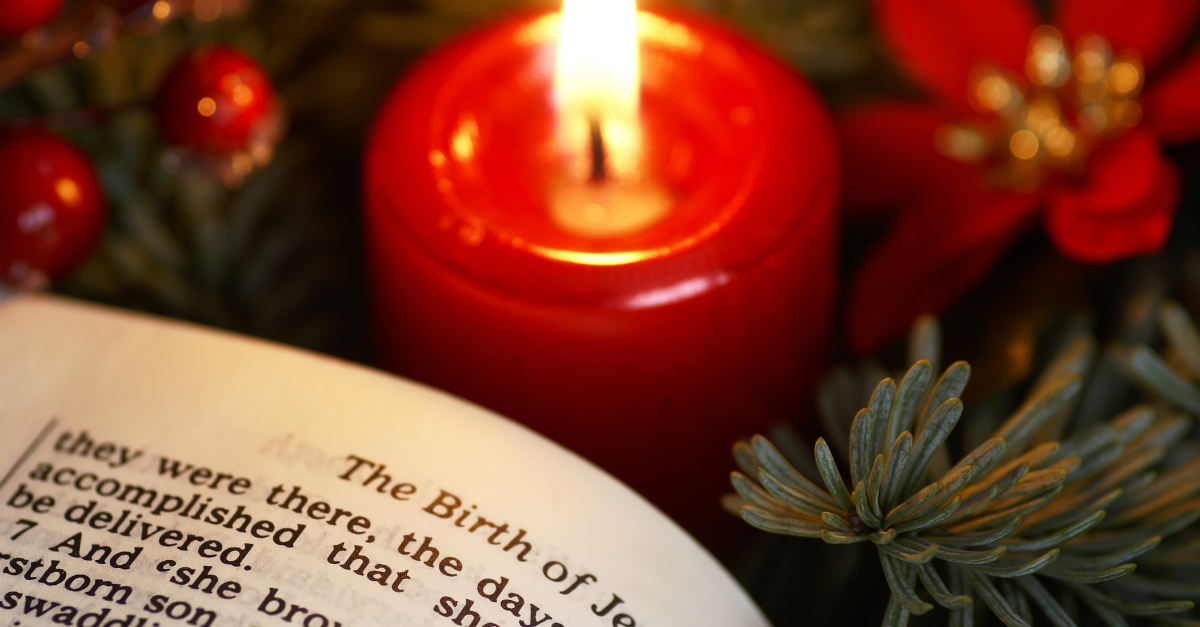 Photo Credit: ©GettyImages/MKucova
What Does the Bible Say about Jesus' Birth?
The "celebration" of Jesus' incarnate arrival on earth began with time itself. Present with God at the creation of the world, Jesus was also the "Seed" that would "bruise Satan's heel." Over 300 prophecies in the Bible speak about Jesus—from Abraham to David to Isaiah and others.
One of the most familiar we read at Christmas about Jesus' birth is the prophecy found in Isaiah 9:6-7. Matthew 1 and 2 unfold Jesus' genealogy, along with Joseph's angelic visit about Mary's virgin conception by the Holy Spirit, and the Magi astronomers' visit to the Christ child.
The Star of Bethlehem in the Bible that led both the shepherds and the Magi to Jesus has actually been traced back to its original time through a study by Rick Larson.
The first and second chapter of Luke relate Mary's visit to her cousin Elizabeth, and more details about Jesus' birth through Mary. In addition, Luke shares perhaps the most familiar passage of all about this miraculous happening, when the angel announced to a band of shepherds that Jesus had been born. The gospel of John takes Jesus full circle again to the beginning with God as the "Word made flesh."
The Bible records Mary and Joseph's journey to Bethlehem of Judea at a time when Herod was the king. Jesus' birth was predicted, planned, revealed, and fulfilled in Scripture. And we now celebrate Him as King of kings, Lord of lords, the Light of the World, the Son of God, Lamb of God, Mighty God, Everlasting Father—the Name above all Names.
5 Bible Verses about the Birth of Jesus
Isaiah 7:14: Therefore the Lord himself will give you a sign: The virgin will conceive and give birth to a son, and will call him Immanuel.
Isaiah 9:6: For to us a child is born, to us a son is given, and the government will be on his shoulders. And he will be called Wonderful Counselor, Mighty God, Everlasting Father, Prince of Peace.
Micah 5:2:"But you, Bethlehem Ephrathah, though you are small among the clans of Judah, out of you will come for me one who will be ruler over Israel, whose origins are from of old, from ancient times."
Matthew 1:23: "The virgin will conceive and give birth to a son, and they will call him Immanuel" (which means "God with us").
Luke 2:4-12: So Joseph also went up from the town of Nazareth in Galilee to Judea, to Bethlehem the town of David, because he belonged to the house and line of David. He went there to register with Mary, who was pledged to be married to him and was expecting a child. While they were there, the time came for the baby to be born, and she gave birth to her firstborn, a son. She wrapped him in cloths and placed him in a manger, because there was no guest room available for them. And there were shepherds living out in the fields nearby, keeping watch over their flocks at night. An angel of the Lord appeared to them, and the glory of the Lord shone around them, and they were terrified. But the angel said to them, "Do not be afraid. I bring you good news that will cause great joy for all the people. Today in the town of David a Savior has been born to you; he is the Messiah, the Lord. This will be a sign to you: You will find a baby wrapped in cloths and lying in a manger."
John 1:14: The Word became flesh and made his dwelling among us. We have seen his glory, the glory of the one and only Son, who came from the Father, full of grace and truth.
Photo Credit: ©GettyImages/undefined
Rebecca Barlow Jordan is a day-voted follower of Jesus who encourages and helps others find joy and purposeful living through deeper intimacy with God. A CBA bestselling, inspirational author, she has written 13 books, including Day-votions® with Your Faithful Father: 90 Days with the One Who Wants to Meet All Your Needs and Day-votions® for Mothers, winner of the Serious Writer 2021 Book of the Decade. She has also written over 2000 greeting cards, devotions, and articles, and contributed to over 20 other books. You can sign up for Rebecca's free ebook and find out more about her and her encouraging blog at rebeccabarlowjordan.com. Rebecca is a minister's wife, has two children and four grandchildren, and makes her home in Texas.
Related podcast:
The views and opinions expressed in this podcast are those of the speakers and do not necessarily reflect the views or positions of Salem Web Network and Salem Media Group.
Related video:
Read the full prayer here.
Thumbnail courtesy of Canva.com & Stock footage courtesy of soundstripe.com
---
Now available is our new Daily Prayer devotional! An easy way to start your day with prayer: read today's prayer and sign up to receive it by email.
This article is part of our larger Prayer resource meant to inspire and encourage your prayer life when you face uncertain times. Remember, the Holy Spirit intercedes for us and God knows your heart even if you can't find the words to pray.
Prayer for God's Help
Prayer for Strength
Prayer for Protection
Morning Prayers
Good Night Prayers