Keeping the 'Holy' in Our Holiday Season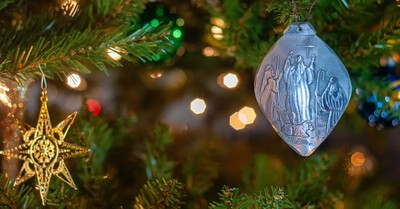 By Harry Hargrave, Crosswalk.com
The word "holiday," derived from the Old English word haligdæg, means "holy day" or "consecrated day." While I think most people do understand the root word of the term, I'm not sure that we keep it in mind when considering our approach to our Christmas holiday celebrations.
In America, Christmas tends to be more about family, gifts, traditions, and food than anything else— oftentimes, with many individuals briefly acknowledging the birth of Christ in a Christmas service.
What if, instead, we allowed reverence for the birth of the Christ child to permeate and transform our holiday celebrations? I believe our secular-centric holidays would be transformed into a focus that is actually divine, profound, and fulfilling -- "O Holy Night, Oh Night Divine!"
The Reason for the Season – Jesus
"Therefore the Lord Himself will give you a sign. Behold, the virgin shall conceive and bear a son, and shall call His name Immanuel." Isaiah 7:14
'Immanuel' in Hebrew means "God with us." When Jesus came to earth, though He was God, He came in the form of man to dwell among the people of earth, to be tempted in every way, yet remaining completely holy. In this way, He would be the only sacrifice worthy of dying on the cross as atonement for the sins of the world. This is powerful. This is a gift worth celebrating every season, every day, every moment.
"For to us a child is born, to us a son is given, and the government will be on his shoulders. And he will be called Wonderful Counselor, Mighty God, Everlasting Father, Prince of Peace." Isaiah 9:6
Jesus came to bring transformation to our broken world. He came so that we might have the gift of eternal life. This is real love that God would give up his son for our sake—that Jesus would be born into humble circumstances in a stable, persecuted in his ministry, beaten, mocked and slain—all for us. This is true love.
"For God so loved the world that he gave his one and only Son, that whoever believes in him shall not perish but have eternal life." John 3:16
The more we fathom the deep, sacrificial love of Christ, the more we are able to reflect that love in a selfless way toward others. This, to me, is profound: in loving others selflessly, we are in fact infusing the holiness of Jesus into our holidays and every day. That undefinable "Spirit of Christmas" is, in essence, a love for our fellow man that causes us to want to be a bit more patient and kind-hearted during this season, to focus more on the little things that bring joy, and to have a childlike wonder at all that the coming of the Christ child means.
When we get hurried and flustered – too many events in our schedules and a never-ending to-do list – let's remember the love behind it all, and why we are going out of our way to do all the holiday "things." It's not about the things but about the people we love and the God we honor. When approached with that attitude, even frustrations such as getting stuck in traffic and long check-out lines can be infused with holiness.
Christmas in the Scriptures
While it wasn't known as "Christmas" in the Bible, I find it helpful to reflect on the biblical accounts of Christ's birth to remind me of the humility and the import of His arrival onto the scene. It had been hundreds of years of silence from God while His people were awaiting the arrival of the Messiah as a light in the darkness. Do we have that kind of anticipation and expectation toward our Christmas Eve traditions?
"While they were there, the time came for the baby to be born, and she gave birth to her firstborn, a son. She wrapped him in cloths and placed him in a manger, because there was no guest room available for them. And there were shepherds living out in the fields nearby, keeping watch over their flocks at night. An angel of the Lord appeared to them, and the glory of the Lord shone around them, and they were terrified. But the angel said to them, 'Do not be afraid. I bring you good news that will cause great joy for all the people. Today in the town of David a Savior has been born to you; he is the Messiah, the Lord. This will be a sign to you: You will find a baby wrapped in cloths and lying in a manger.'" Luke 2:6-12
The struggle and the chaos surrounding the baby's delivery are actually quite reminiscent of our world today. As we seek to find the peace and calm in our storms, we can look to Mary and Joseph who were able to transform a lowly, smelly stable into a sacred space for welcoming God into our midst.
I think of the awe and excitement of the shepherds as they first heard of the Messiah's arrival from the other-worldly angels. We've become blasé about the facts of Christmas, but if we can imagine being in the place of those shepherds, what reverence and joy it would infuse into our re-telling or re-hearing of the story!
Finally, consider the wise men who traveled for years in response to the signs in the Heavens to find the new King and worship Him. Do we make that kind of effort to bow at the feet of our Savior, or have our Christmas services become routine, and we are just going through the motions? Let's put a little more thought into the scriptural context as we hear the Christmas story read again this year so that we can approach it with a refreshed perspective that gives us a more visceral appreciation for what Christ endured to enter the world and for his reception among the story's participants.
As we at Museum of the Bible attempt to help people engage with the Bible and recognize its impact on our world, I pray that you and your family will be able to do the same for your own holiday celebrations this year, thereby transforming them into a holy sacrament.
As we re-focus our attention on greater reverence for Christ and a better understanding of his sacrificial love this Christmas, it will not only deepen our enjoyment of the holy season but will strengthen our faith all year long.
Photo Credit: Robert Thiemann/Unsplash
Harry Hargrave serves as the Chief Executive Officer for Museum of the Bible in Washington, D.C., which is a global, innovative, educational institution whose purpose is to invite all people to engage with the transformative power of the Bible.
LISTEN to Our Christ-Centered Christmas Podcasts on LifeAudio
The views and opinions expressed in this podcast are those of the speakers and do not necessarily reflect the views or positions of Salem Web Network and Salem Media Group.
WATCH: Prophecies That Foretold Jesus' Birth
See the numerous biblical prophecies of the birth of Jesus Christ and what we can learn from the Old Testament about His divinity in this collection of scripture quotes.