Prayers for Those Who Have Lost a Loved One to Suicide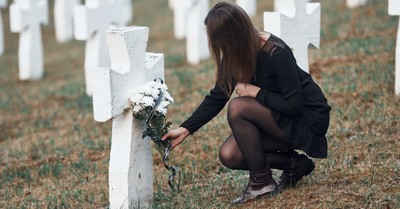 By Beth Ann Baus, Crosswalk.com
Grief is one of the most difficult aspects of life on this earth. The longer we live, the more sorrow we will likely experience. And while there is a likeness to all grief, there is a uniqueness to grieving the loss of someone who dies by suicide.
Many refer to grieving suicide as "ambiguous loss." This is because suicide often leaves the surviving loved ones full of questions that will never be answered. The abundance of questions and the lack of answers leaves the survivors in unresolved grief.
If you, like me, have lost a loved one to suicide, please know there is healing to be found in the tender love of our Heavenly Father. In the midst of grief, prayer can sometimes be challenging. If that is where you find yourself, I hope these prayers can help you reconnect with the Lord and help you find the words for what you're feeling.
A Prayer for Guilt
Father God, I am consumed with guilt. I can't help but ask myself over and over what I could have done differently. If I had said, "I love you," one more time, would it have made a difference? If I had called to check in more often, would it have changed anything? If I had been available more often, would they still be here?
My mind is so full of questions I can't think about anything else. Please, Father, quiet my mind. Help me to let go of the questions that are haunting me. Help me to stop blaming myself. I know deep down this wasn't my fault. In my heart, I did all I knew to do. But yet, I feel so guilty.
Father, keep Psalm 73:26 at the forefront of my mind, "My flesh and my heart may fail, but God is the strength of my heart and my portion forever." Please remind me that you are my strength and portion when I am overwhelmed with guilt. You are enough. You will sustain me.
A Prayer for Confusion
Lord, I am so confused. I'm confused about why my loved one would take their own life, and I'm confused about why you would allow that to happen. Don't you love us? Aren't you good? Where were you when they were planning this awful thing? Where were you when it happened? Why didn't you stop it?
I'm torn between what my flesh and my spirit tell me. My flesh tells me I deserved to have this happen. I deserved to have my loved one take their life. My flesh tells me this is my fault and that you are punishing me. But my spirit tells me that you are faithful, you are good, and that you are grieving with me.
Lord, help me to reconcile these thoughts. Please help me to trust in your goodness. Give me peace. Please let your Holy Spirit minister to my soul and remind me of the truth found in Psalm 119:50, "This is my comfort in my affliction, that your promise gives me life." Remind me, Lord, that you were there, that you didn't look away, and that you are indeed grieving with me.
A Prayer for Anger
Father God, I can't begin to express the amount of anger I feel. How could they do this to me? To their family? To their friends? How could they do this knowing someone who loved them would find them and have to live with these awful images in their mind? I'm so mad I can hardly see straight.
I need you to calm my heart. I need you to help me think clearly and believe the truth. Remind me that they weren't in their right mind. Remind me that they would haven't done this had they been thinking clearly. Remind me that my anger won't honor them, change what happened, or bring them back. Remind me that I'm only hurting myself by being this angry.
In Matthew 5:4, your Word says, "Blessed are those who mourn, for they shall be comforted."
Please remind me of this on these days when I am so full of anger. Remind me that my anger is a part of my grief and that you will comfort me. Help me to fix my eyes on you, Lord, not on my anger. Help me to be consumed with you, not my anger. Help me to give my anger to you and to breathe a breath of fresh air that can only come from you.
A Prayer for Trauma
God, I can't get these images out of my head. I feel anxious as soon as I open my eyes in the morning, and I fear no one will understand if I try to talk about this. I didn't expect to feel this way. I didn't expect to fear closing my eyes. I didn't expect this to haunt my dreams and my time awake. I suddenly feel afraid of everything and nothing all at the same time.
Things I once watched for entertainment now turn my stomach. I can't seem to concentrate on anything. Praying is hard enough, but reading my Bible - that seems impossible. I know your Word and trust in it, but I can't bring myself to read it. The words are a blur on the page. The thought of sitting through a worship gathering and singing praises seems impossible. Not because I don't want to praise you, but I can't reconcile the joy I have in you and the deep, deep sorrow I feel in every inch of my being.
Lord, please bring Isaiah 41:10 to my mind, which says, "fear not, for I am with you; be not dismayed for I am your God. I will strengthen you, I will help you, I will uphold you with my righteous right hand." I need you to strengthen me, help me, and uphold me. I need you to see me through this, to heal and restore what is broken.
A Prayer for Isolation
Father, I know you created us to be relational and thrive in community, but I don't want to be around anyone right now. I dread anyone asking me how I'm doing. I don't think anyone wants to hear the honest answer to that. No one wants to hear that I'm consumed with thoughts of suicide and that I can't even find the words to describe so much of what I'm feeling.
I know I could tell people I don't want to talk about it, but I also don't want to talk about anything else. Normal conversation seems so absurd right now. I can't stand hearing anyone talk about their everyday problems or even the things they're excited about. I can't be normal right now, and I'm not sure I'll ever be my normal self again.
Father, give me the wisdom to know how to communicate my needs and give my friends patience and understanding as they try to love me through this. Please write Psalm 34:18 on my heart, "The Lord is near to the brokenhearted and saves the crushed in spirit." Remind me that you are near, that I'm not alone.
A Prayer for Joy
Father God, will I ever be happy again? Will I ever smile, laugh, or enjoy the simple day-to-day things in life? Will I ever wake up and not feel empty? Will I ever be able to talk about my loved one without crying? Will I ever enjoy reading your Word, singing your praises, and spending time with my brothers and sisters in Christ?
Please remind me that there is a difference between happiness and joy. Remind me that I can feel sadness, emptiness, anger, and darkness and yet still have joy in you. I admit, right now, I feel so numb I'm not sure I even remember what joy in you feels like.
Psalm 30:5 says, "Weeping may tarry for the night, but joy comes with the morning." Would you please restore my joy? I know I will never stop grieving. My grief will change over time, but it won't go away. So while I learn to live with this hole in my heart, would you please fill that hole with your love and let your love overflow in joy?
A Prayer for Grace
Lord, as I start spending more time around people, I find that both family and friends say things that are hurtful or unhelpful. Everyone wants to fix me. Everyone wants me to move on. Everyone wants to give me advice, a book to read or a Scripture to meditate on. Everyone has something to say when all I want is for them to listen. Lord, give me the ability to give grace and to know they are only trying to help. Remind me that they are speaking out of love and that their heart desires to help, not hurt.
In the same vein, I know I have responded in hurtful and unhelpful ways. I know my patience is thin, and my emotions are high. I acknowledge that I'm not always honest when people ask how I am, and I'm confident people can sense I'm trying to cut off and leave the conversation. Lord, give people the ability to extend grace to me as I am not myself.
Your Word, in Galatians 6:2, tells us to "bear one another's burdens." Give me the humility the allow others to bear my burdens. Give them wisdom and discernment as they speak to me. Give me a soft heart to accept help even when it doesn't look how I want it to. Grant us all the ability to assume the best in one another, to forgive quickly, and extend grace where grace is needed.
There Is Hope and Help
Romans 8:38-39 says, "For I am sure that neither death nor life, nor angels nor rulers, nor things present nor things to come, nor powers, nor height nor depth, nor anything else in all creation, will be able to separate us from the love of God in Christ Jesus our Lord."
In your darkest moments of grief, remind yourself that no matter what you're feeling in the moment, it is not separating you from God. He still sees you, hears you, and loves you, regardless of what you feel. Rather than get comfortable in your sadness, ask God to restore your joy, hope, and faith, and draw near.
If you need help dealing with your grief, you can search here for a biblical counselor near you. Sometimes we need help from others to see the joy, hope, and comfort that can be found in Him.
Photo Credit: ©iStock/Getty Images Plus/standret
Beth Ann Baus is a wife and mother of two adult sons. She is a freelance writer and author of Sister Sunday, My So Much More, and His Power, Our Weakness: Encouragement for the Biblical Counselor. In her writing, Beth often pulls from her own experiences of abuse, anxiety, depression and OCD. Beth has a heart for homeschooling, women's ministry, and is an ACBC-certified Biblical Counselor. She loves serving alongside her husband and pointing couples to the Word for strengthening their marriages and home life. You can find more from her at www.bethannbaus.com.
Related podcast:
The views and opinions expressed in this podcast are those of the speakers and do not necessarily reflect the views or positions of Salem Web Network and Salem Media Group.
Related video:
Thumbnail courtesy of Canva.com Stock footage courtesy of soundstripe.com