NACFC 'Alignment 2020: Virtual' Conference (Session #5)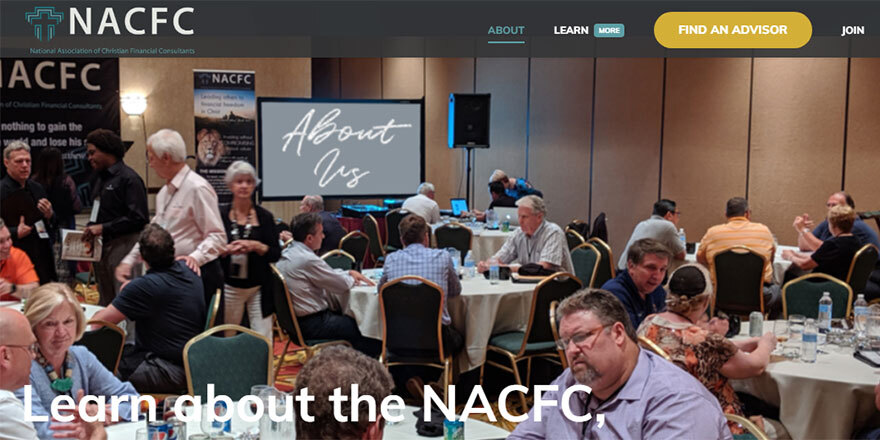 3:00 PM on Wednesday, November 25
Repeats every 5 weeks on Wednesday at 3:00 PM, through November 18.
National Association of Christian Financial Consultants' 'Alignment 2020: Virtual' Conference Offers Easy-to-Use, Biblically Responsible Tools and Methods for Financial Planners
Six Online Monthly Sessions Focus on Topics Such as Digital Engagement, Effective Communication, Leadership and Service
ORLANDO, Fla. — For its upcoming, exciting, free virtual conference, the National Association of Christian Financial Consultants (NACFC, www.nacfc.org) has lined up a group of expert speakers who are passionate about equipping financial planners and consultants to commit to Biblically Responsible Investing (BRI)—and helping their clients do the same so they can have peace about their finances even in turbulent times.
This is especially needed during a time of many questions surrounding the economy: How can I save with my job in question? What about my retirement? Should I change the way I manage my money?
While they help their clients honor God with their resources and engage with other advisors and industry leaders, the speakers for NACFC's "Alignment 2020: Virtual" Conference will also address topics such as digital engagement, effective communication, leadership and service.
"To be in line with financial consultants and their current needs in these extraordinary circumstances, we are excited to host a six-part online conference, planned over six consecutive monthly online sessions—June through November," said NACFC president and co-founder Mark Minnella. "While there are always trends and financial news for planners and consultants to consider, this season has posed brand-new challenges that few could have expected. It will be gratifying to gather, even virtually, and come together for our common purpose."
The monthly sessions, held on the third Wednesday afternoon of each month, next session October 21 at 3 p.m. CT/4 p.m. ET. The first one-hour online session will feature Alan Ross on the topic of "Aligning Your Business with Godly Principles with the Help of the NACFC." He will discuss how the conference series will help consultants utilize their practices to glorify God and experience growth, both personally and professionally.
Ross is the founder of Kingdom Companies, a ministry committed to equipping and encouraging Kingdom leaders to use their professional positions or business ownership as a platform for their own ministry. His passion is to develop "legacy leaders" who will carry on these principles through the marketplace and transform their companies, their communities and the culture.
"Alignment 2020: Virtual" will provide attendees with the education and resources to align their planning process with their clients' beliefs and convictions, align businesses with godly principles, align hearts with Christ and align practices with the community.
Other expert speakers who will present timely topics over the six-month span of the virtual conference sessions include the following:
SESSION #2—JULY 15: Digital Engagement for Prospecting and Client Development. Speaker: Jeff Cave
SESSION #3—AUGUST 19: Aligning Biblical and Effective Communication Principles. Speaker: Zachary Covert
SESSION #4—SEPTEMBER 16: God's Calling to Finance, Called to Service. Speaker: John Parrott
SESSION #5—OCTOBER 21: Leadership Requires Balance. Speaker: Brent Owens
SESSION #6—NOVEMBER 18: If Jesus Was My Advisor. Speaker: Randy Alcorn (pending)
The fifth session of NACFC's "Alignment 2020" virtual conference, on Wednesday, October 21, at 4:00 p.m. EST, will focus on the topic "Are You Equally Yoked with Your Broker/Dealer?," presented by Brent Owens, president and operations manager of Creative Financial Designs of Kokomo, Indiana.
The virtual conference is free for NACFC members and non-members to attend. Those interested in NACFC can join for $195 for one year. Sessions are expected to run for one hour, and special sessions and sponsor presentations may be added. The name of one person from those who attend all six sessions will be drawn to receive free admission to the 2021 NACFC conference.
For more information, visit nacfc.org/alignment-2020, or contact [email protected]
---
The mission of the National Association of Christian Financial Consultants is to teach, train and encourage financial professionals to learn, share and instruct biblical stewardship to individuals and families believing that "it profits a man nothing to gain the whole world and lose his soul" (Matthew 16:26). Members will glorify God by impacting their world for Jesus Christ through teaching and practicing biblical stewardship.
For more information on NACFC, visit nacfc.org. View the media page for NACFC here.