ATTRACT NEW CHRISTIAN BELIEVERS AND SEEKERS TO YOUR CHURCH
Reach a loyal North Texas Christian audience on The Word 100.7 FM to attract potential new believers and seekers to your church. Promote your weekday/weekend services, your Pastoral staff, your special programs, your special events or anything you want someone to know about what makes your church special and inviting to members and visitors alike.
What will your monthly Grow Your Church campaign look like?
You will receive 25 sixty-second commercials each month you advertise your church as follows:
– 15 commercials will run Monday - Friday, 6am - 7pm
– 10 commercials will run Monday - Sunday, 6am – Midnight
Monthly Grow Your Church Investment - $1,000.00
• No minimum or maximum months with this offer – you decide how many months based on your
desired budget.
• Each month paid in advance (by credit card or check).
• All creative production is included in your investment.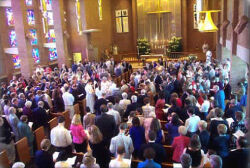 Contact Easy Ezell – Director of Ministry Relations
Salem Media Group – Dallas
[email protected]
Direct Line: (214) 561-9120
---
COPYRIGHT© 2021, ALL RIGHTS RESERVED. A SALEM MEDIA GROUP STATION.