MINISTRY OF THE MONTH - TRIPLE IMPACT
11:59 PM on Saturday, November 30 - Tuesday, December 31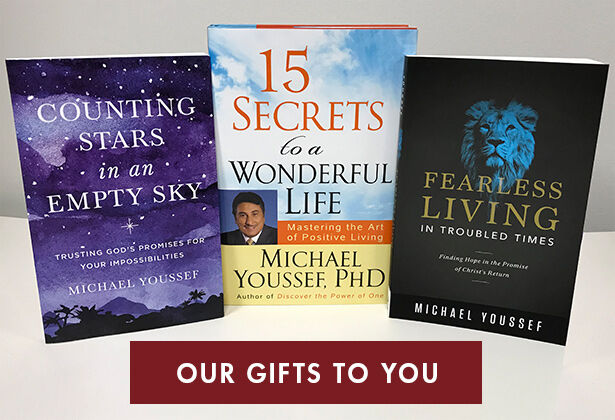 This month we invite you to learn more about LEADING THE WAY with Dr. Michael Youssef heard each Weekday 5–5:30 PM on THE WORD 100.7FM.

During the month of December, generous friends of the ministry are offering to give $2 for each dollar you give to Leading The Way. This means that $100 becomes $300, $500 becomes $1500, and your gift of $1000 becomes $3000. Help expand the impact of Leading The Way and the Gospel in 2020 and beyond...
Visit Leading the Way
While heard by millions at home and abroad, behind every message preached over the airwaves is a pastor's heart, longing to feed and care for people. God has gifted Dr. Youssef with a bold voice to bring Biblical clarity to today's issues and speak to a worldwide audience. The path he has walked has given him a thorough cross-cultural understanding and a firm grasp of Scripture. (more)

NOW CELEBRATING MORE THAN 30 YEARS...


A GLOBAL MINISTRY
Along with partners committed to changing the world, Dr. Michael Youssef is leading the way for people living in spiritual darkness to discover the light of Christ. By passionately proclaiming uncompromising Truth through creative methods,
Leading The Way's
international team of experts is uniquely providing hope that is revolutionizing lives here at home and around the world.
Now celebrating 30 years of ministry,
Leading The Way's
television and radio programs are broadcast in
26 languages
to audiences across
six continents
through dual-language programs,
Leading The Way's
satellite television channel THE KINGDOM SAT, and solar-powered
Leading The Way Navigators
.
Leading The Way
also produces DVDs, CDs, books, a monthly devotional magazine, and daily e-devotionals to reach the lost and encourage believers in their faith. The ministry utilizes field ministry teams to
evangelize seekers and disciple new believers
. Dr. Youssef's unique perspective has given him a platform to speak boldly into today's issues and provide Biblical solutions to the challenges Christians are facing today.
---
COPYRIGHT© 2019, ALL RIGHTS RESERVED. A SALEM MEDIA GROUP STATION.
Location:
The Word 100.7FM
6400 N. Belt Line Rd, Suite 110
Irving, TX 75063
Google Map
+1-469-359-5215