Sunday, June 25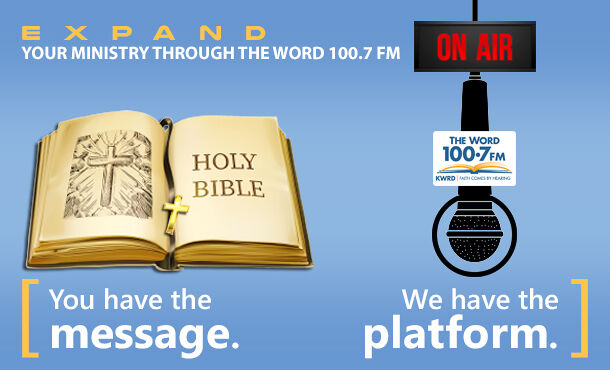 When God wins a city over to Christ, it's through the local church. We at The Word 100.7FM believe that, as Bible teachers, you are the voices of God in North Texas. And, because your message is so critically important, we're convinced you need a bigger net for a larger catch.

So we created a Pastor's Perspective feature designed to help:
• Expand your church's borders beyond its four walls.
• Reach local listeners who are seeking a church home.
• Share your messages with your own congregation– beyond your weekend services.
HERE'S HOW IT WORKS:
• You'll record six different :50 second messages of encouragement or a scriptural message of the day either in our station studios or you can send fully produced messages. We'll add a 5 second open and 5 second close to your message creating 6 different Pastor's Perspective messages.

• Pastor's Perspective is being expanded to three airings each weekday. One will run each weekday morning on The Word 100.7FM at 8:25 - 8:30am, 12:55 - 1:00pm and 5:56 - 6:00pm and one on Sunday at 12:28pm.

• AND, all of these run as a free gift to you from The Word 100.7FM.

• Pastor's Perspective — now heard on The Word 100.7FM — reserve your week now!
Request your Pastor's Perspective Week now by emailing Shane Moore (The British Guy) at [email protected]

• NOTE: Week scheduled and production plans will be confirmed via email.

We look forward to working with you!
---
© COPYRIGHT 2023, ALL RIGHTS RESERVED. A SALEM MEDIA GROUP STATION.