THE WORD 100.7FM ANNUAL PASTORS APPRECIATION DINNER
7:00 - 9:00 PM on Tuesday, September 13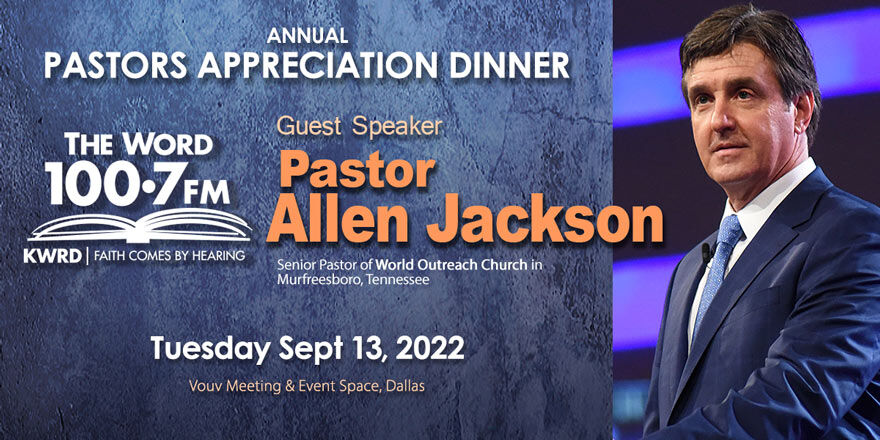 THE WORD 100.7FM 2022 PASTORS APPRECIATION DINNER



Event Information
The Word 100.7 FM Annual Pastors Appreciation Dinner
September 13th, 2022
Invitation to all pastors, their spouses and pastoral staff.
The dinner is completely free and includes a great meal, fellowship with other local pastors, prizes, and a keynote message from Pastor Allen Jackson, Senior Pastor of World Outreach Church.
*Admission is FREE, but you must RSVP to guarantee your seat and complimentary meal!
Please watch our brief video of a previous Pastors Appreciation:
ABOUT ALLEN JACKSON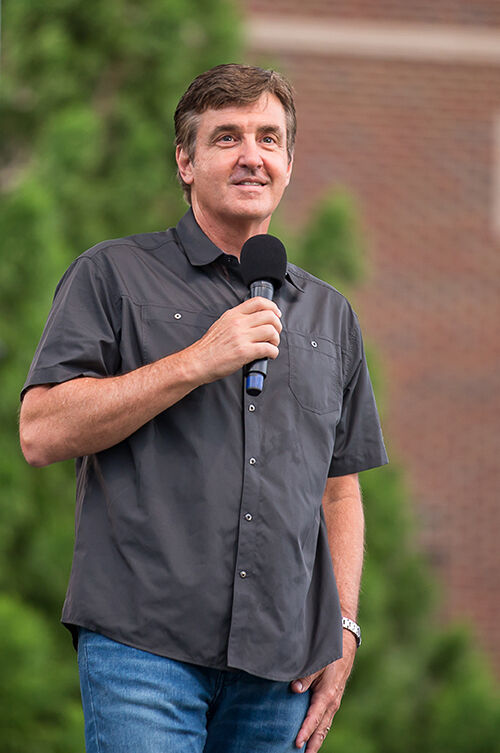 Pastor Jackson has served as senior pastor of World Outreach Church just outside Nashville, Tennessee since 1989. Under his leadership, the church has grown from less than 30 people to over 15,000 through outreach activities, community events, and worship services designed to share the Gospel. Despite its current size, he still fondly refers to the congregation as a "little country church" because that's how it began—as a small Bible study in his parents' home in the 1970s.
Though he often jokes that he was "raised in a barn," his life journey has proven to be impactful. He began his studies in the sciences, determined to pursue a career in medicine, but his course was altered by Matthew 16:18: "I will build my church and the gates of Hades will not overcome it."
"That verse changed my life," Pastor Allen said. "My spiritual formation didn't take place inside a more traditional church setting. I accepted Jesus as Lord of my life on the kitchen floor of my childhood home. I was baptized in the Atlantic Ocean in Fort Lauderdale. I had to learn to understand the value of Church and corporate worship, and God's people standing together. When I read Matthew 16:18, I began to say to God, 'If there's anything I can do to help with building Your Church, I'm in.'" more here
Pastor Allen's mission is to help people become more fully devoted followers of Jesus Christ, and technology has increased his impact, allowing his biblical messages to reach and encourage 3,000,000+ people per week.
---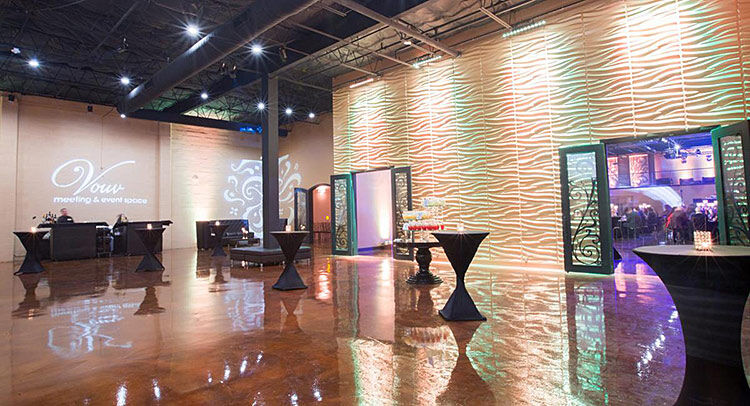 Date & Time
---
Tuesday, September 13th, 2022
Arrival-Registration: 5:30pm-7:00pm
Dinner-Program: 7:00pm-9:00pm
Location
---
Vouv Meeting & Event Space
4445 Sigma Road
Dallas, Texas 75244


Map and Directions
Larger map
The Word 100.7FM Dallas
For information, contact Easy Ezell at (214) 561-9120 or email [email protected]
© COPYRIGHT 2022, ALL RIGHTS RESERVED. A SALEM MEDIA GROUP STATION.